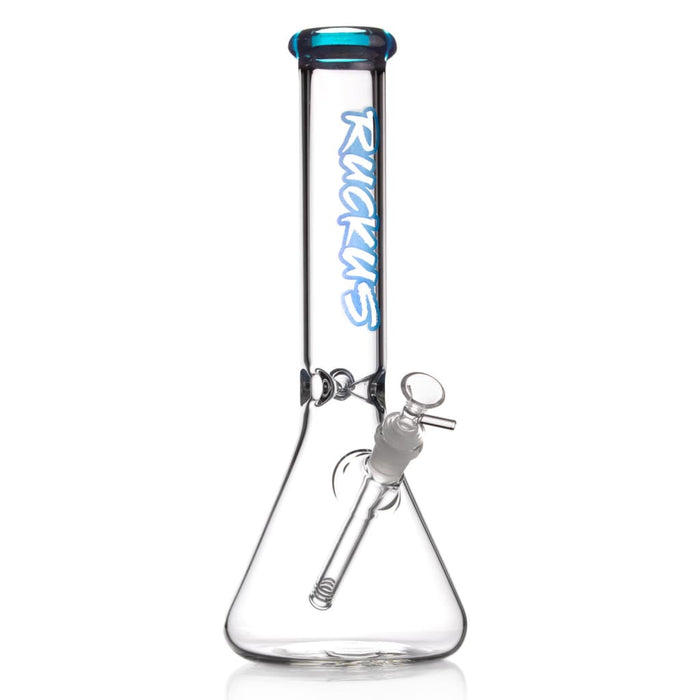 Ruckus Glass 12" Colored Lip Beaker Bong
Original price
$ 100.00 USD
-
Original price
$ 100.00 USD
$ 100.00 USD
-
$ 100.00 USD
Current price
$ 100.00 USD
Ruckus Glass | 12" Colored Lip Beaker Bong
This Ruckus beaker bong's main focus is its vibrant colored mouthpiece and clean, matching, Ruckus Glass decals. Not to mention, its simple and functional design ensures that you get smooth and satisfying hits every time.
Staple Beaker Design

Boasting a scientific beaker design that's designed to deliver excellent hits. You'll love the 6-slit diffused downstem that breaks down smoke to provide satisfying rips. Also, this bong provides a large chamber that's perfect for massive smoke clouds with its large beaker base and wide 50mm tube diameter.
Experience Satisfying Rips
This piece is designed to hold just the right amount of smoke to satisfy the needs of every smoker.
With its wide 50mm tube and large beaker base, this bong provides exceptional water filtration and smoke retention. Resulting in massive clouds of milky smoke. Whether you're smoking solo or with friends, this bong is guaranteed to deliver a solid hit every time.
Key Highlights:
Clean Ruckus Colored decal
Ideal choice for casual smokers
It's a classic, reliable pipe with an uncomplicated design
Diffused downstem
Colored flared lip mouthpiece
Easy to clean and maintain without any hassle
Offers the perfect size smoke chamber to deliver huge, milky rips
Its wide 50mm tube and beaker base ensures great water filtration and airflow
Details:
 Height:
12 Inches
Base Diameter:
5" Inches
Tube Diameter:
50mm
Glass Thickness:
5mm
Joint Angle:
45

°

Joint Size:
18mm
Stem:

18mm Male to 14mm Female | Fire-Cut Diffused Downstem

Bowl Size:

14mm Male

Ice Catcher:

Yes