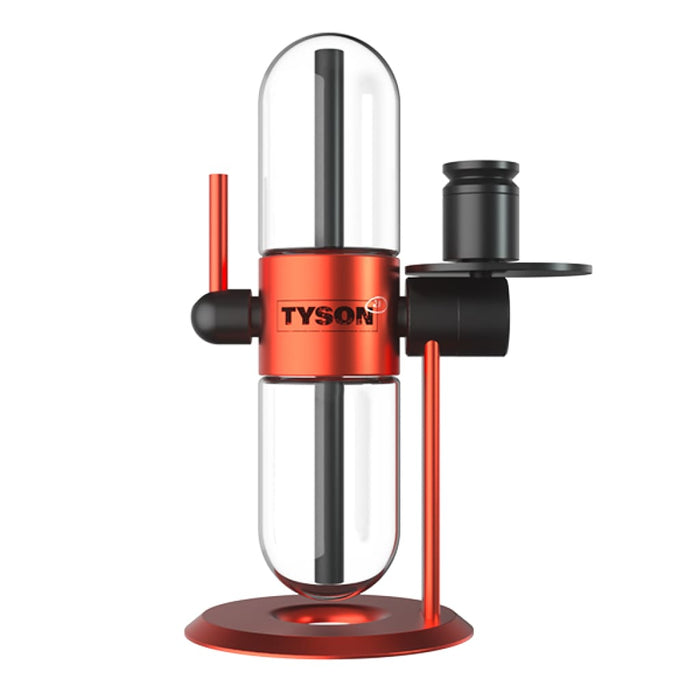 Tyson 2.0 x Stündenglass Gravity Infuser
Save

12

%
Save

12

%
Original price
$ 599.95 USD
Original price
$ 599.95 USD
-
Original price
$ 599.95 USD
Original price
$ 599.95 USD
Current price
$ 525.00 USD
$ 525.00 USD
-
$ 525.00 USD
Current price
$ 525.00 USD
Compatible with: Mixology, Culinary, Hookah, Aromatherapy

Created in collaboration with legendary boxer, entrepreneur, and advocate Mike Tyson and his new brand Tyson 2.0

Built-in percolation system delivers water-filtered, cooled smoke

Easy maintenance and simple to clean

Contactless consumption
In collaboration with the legendary boxer and entrepreneur Mike Tyson and his fresh brand Tyson 2.0, Stündenglass proudly unveils the limited edition Tyson 2.0 x Stündenglass Gravity Infuser (in striking red and black) 🎈. This masterfully crafted product symbolizes the perfect fusion of elegance, quality, and innovation 🌟.
🌪 Innovative Design and Functionality: Experience the Future of Smoking 🚀
The 360° rotating glass hookah of Tyson 2.0 x Stündenglass Gravity Infuser is an epitome of sophistication. Its kinetic motion activation is powered by cascading water displacement, opposing airflow technology, and the natural force of gravity 🌊. It's more than just a device; it's a piece of art that promises an extraordinary experience.
✨ Unparalleled Quality and Versatility: Built to Impress and Last 🏆
Constructed with the highest quality materials, including borosilicate glass globes and aircraft-grade anodized aluminum, this Gravity Infuser offers an immersive experience while delivering smooth and consistent draws 💨. It's designed for functional versatility, complete with an infusion chamber kit, a glass liner, and a connection to any 14mm male joint smoking or vaporization device. The 3-foot silicone hose and 45° adjustable mouthpiece provide options for both direct draws and entirely contactless consumption.
📦 Packaging, Warranty, and Unmatched Excellence: A Class Above the Rest 🌐
This patented design comes with an extended 10-year warranty and is packaged in a reusable craft box with a handle for easy storage and transport 🧳. It's super durable, futuristic in design, and unparalleled in function. Standing alone at the pinnacle of smoking devices, the Tyson 2.0 X Stündenglass Gravity Infuser is the symbol of next-level luxury and innovation in the world of smoking. Don't miss this opportunity to own a piece of the future. Order yours today! 🎁